Residential Energy Efficiency Blog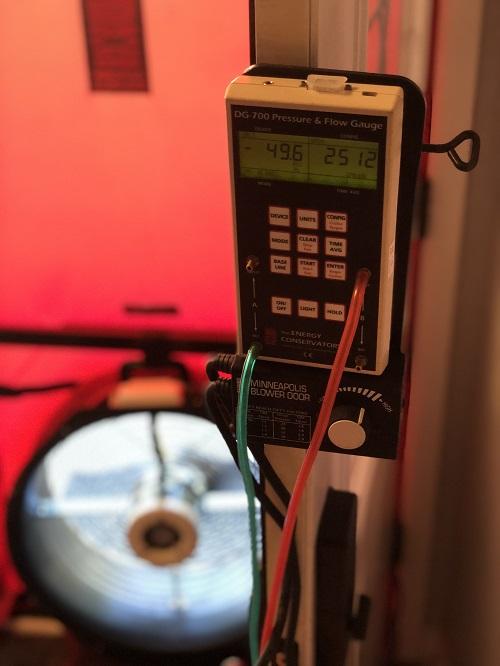 1. No More Guessing Games
A blower door test is a great way to isolate problem areas of the home as it relates to communication with the outside. One example would be to isolate an area of the home that is causing an issue. It there is an upstairs bedroom that seems particularly warm in summer, a blower door test may reveal that the room is connected to the outside. It could be through an un-caulked window molding, or a light fixure. A blower door test can help guide us to the issue. If the room is not connected to the outside, maybe the duct that supplies heating and cooling is disconnected or un-insulated. A blower door test helps eliminate issues in order to find the root cause of the comfort problem.
2. Confirm Window & Door Theories
If I had a nickel for every audit I have done where the homeowner is in a debate with their spouse/partner about where the drafts are coming from. In some cases, both are convinced that the drafts are from the windows. An air leakage test using a blower door is the best wey to prove or disprove any theory about how leaky the windows are in the house. Using odorless smoke pens and toy smoke makers, drafts in windows and doors can easily be uncovered with the use of a blower door test. Even the smallest of leak can be detected and determination about new windows can be made from the position of confirmed information.
3. Seeing Air Leak Into Your House is Empowering!
There are several places around your home that you will be shocked to learn are leaky and don't just take our word for it! We will whip around your home during the blower door test and watch and feel the air stream in. There are placed in the basement, in the ceiling and in the walls. The other side of the coin is the places where you won't find any leakage. That is equally important and should have an impact on feeling in control!
4. Uncover Leakage that are Hiding in Plain Sight
Each and every day we go into our favorite bathroom and we spend some quality time. Those of us that are considerate flip on the exhaust fan and let it run for the duration. Have you ever gone into that bathroom on a cold winter morning and felt a temperature difference below the fan? Ever wonder why? An air leakage test will expose the bath fan as an offender - a secret gateway to the attic - where cold and hot air reign supreme.
5. Compare Your House to Similar Size Houses
When you have a blower door test done with an experienced building analyst, you will receive feedback about the results of your air leakage test compared to those of similar sized houses. Although no two houses are exactly the same fair and reasonable comparisons can be made based on the age and style of the home compared to others in Maryland. Knowing how your house compares to your neighbors is a good way to set goals and aspire for change with examples of success to model after.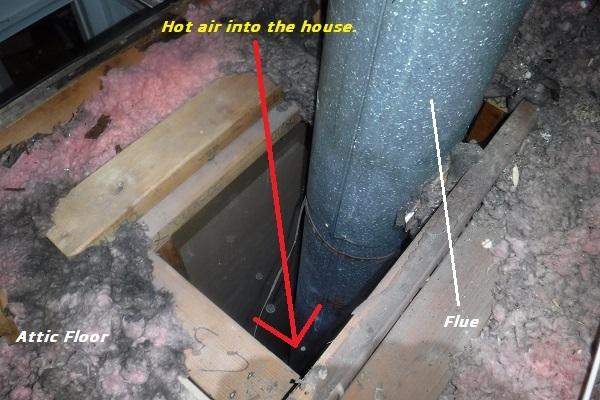 One of the greatest benefits of being a home energy auditor is that I get to visit so many different style homes and hear about so many different types of issues that I have gained a library of information about how to advise people on what they can do to solve just about any comfort problem. When you fix comfort problems - you save money on your bill too!
Let's talk about gas furnaces for example and why they can be problematic in summer. Not all homes have gas furnaces and not all homes with gas furnaces will have this issue, so take a look at yours to see if this applies to you.
A gas furnace is a combustion appliance. It must evacuate the harmful gases that it creates when burning fuel to heat your home. As a result, a furnace has a flue or chimney that must go to the "outdoors". In order to do that, the builder must plan for space inside the home for the flue to run through the conditioned space, up through the attic and out at the roof. This is known as a chase or conduit.
How does this relate to comfort and high energy bills in summer? Check out this video to get a better understanding of the problem this can cause.
Generally, warm air follows cold air. If you open your front door on a warm, humid summer day, warm air from outside wants to come inside. In winter, the warm air inside wants to go right out. With that general idea in mind, if the cavity created for the furnace chimney is open at the attic floor (like the one in the picture) then guess what happens...the 150 degree air in your attic wants to seep down into the conduit and wreak havoc on your life!
What do do?
If you have a flue that runs through the attic, you will need a professional to take a look. Blocking and sealing around a flue at the attic floor requires taking the correct precautions to be sure it is correctly fire rated since the flue gets very hot.
Another tip: typically, houses that have an open flue chase at the attic floor also have several other common problems that can easily be corrected. Another thing I learned from doing so many audits - many people think that they have to live with being uncomfortable. Not true!