Residential Energy Efficiency Blog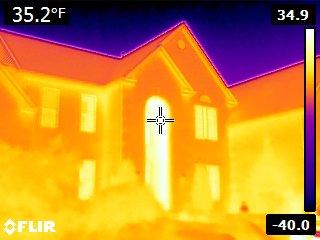 Saturday, September 26 2020
If you live in Maryland long enough you will experience a cold winter. During extreme cold events most houses will give in to the "pressure" and feel drafty. The heating bills go up and your house may never feel warm. Before you know it the winter is over and you spent a whole lot, but you didn't end up getting much comfort in return.
Unless a home has a pressure boundary to go along with the thermal boundary then extreme winters will be costly and uncomfortable. The missing part of an insulated home is sealing up all places where air can flow from the outside to inside or inside to outside. Most Maryland houses are in this category and are considered to be leaky.
As certified professional home energy auditors with over 1000 home energy audits completed we understand the common configuration problems that cause issues for different style houses. Having this experience gives us good insights into how to solve issues and not make them worse.
Below are a list of characteristics found in the houses with winter comfort issues.
Recessed Lights in Top Floor Ceiling

Open Chimney Damper

Unsealed Attic Access Hatch

Fiberglass Batt Insulation Installed at Attic Floor

Closets with Doors to Attic Areas

Houses Built on Crawl Space

Homes with Kneewalls and Sloped Ceilings

Houses with Uninsulated Ducts

Poor Overall Attic Ventilation
To understand how to get a hold of the winter cold in your home, you must first understand the Stack Effect. The stack effect happens in every building and it gets its name from a chimney. The physics behind the name is that at the base of the chimney - the fire - there is a "pull" or negative pressure. At the top of the chimney the smoke and heat billows out. That is the "push or burst" - the positive pressure.
In the winter our heat in our homes rises upwards. Much like a hot air balloon. We all know that hot air rises. What we have been missing for all these years is that the hot air is escaping through holes in the ceiling. And when it gets pushed through the top it gets pulled in at the bottom (crawl space, untreated basements).
To make a Maryland home more comfortable in winter the focus must be on sealing the attic floor. Disruption to the flow of warm air escaping through the ceiling will also disrupt the negative pressure, or cold air streaming in at the basement. Less negative pressure means less cold air infiltration - or less drafts. By sealing the attic, the heat can't escape and the furnace/heat pump does not have to run as long.
An energy audit through the BGE Home Performance with ENERGY STAR program is a great way to get up to speed. An energy audit, done with a great energy auditor, will guide you to how your home fares. Usually, we intrigue homeowners with easy to fix finds and advice that puts them in control.
In sports, one way to describe a team or a player that is peforming at peak is to say there is a "science" behind it. When it comes to home comfort there is a true science behind it and Hometrust has the training, knowledge and diagnostic tools to test and finally get to the source of your home comfort issue.