Like this article?
Get two free guides:
Replacement Window Report &
Home Efficiency Report
Join a community!

Learn how to move the
home comfort needle!


Save Energy
Effective Tips
From a Certified Pro
Energy Auditor
Eric Gans
Certified Energy Auditor

Residential Energy Efficiency Blog
Saturday, November 21 2020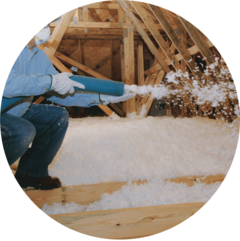 If you are considering attic insulation then it is natural to want to compare the different types that are out there before deciding which one is best for you.
If you did a search for blown insulation vs. spray foam insulation, there are several articles written on the topic. They mostly go in-depth about the great features and benefits of each material.
In my opinion - there is no meat on the bones in those articles and here is why...
A Building Analyst's View
Let's consider driving to the city. Doesn't matter which city. Can be anywhere in the world.
Tell me this: what person is gonna set out to find the longest, most expensive route to get the city? Virtually nobody!
Also, tell me this: when is the last time you thought about your insulation in terms of what it looks like or how many bells and whistles it has?
My point, who needs the Mercedes Benz of attic insulation?
The real question should be:

What option is going to get me where I need to be for the least amount of cost?
Let's dive into that for a moment.
Two-Part Spray Foam
Two-part spray foam should not be confused with the spray foam you see more often in home improvements.
There is a significant difference in an aerosol spray foam cannister you can buy at the local hardware store compared to the more advanced materials that are instantaneously mixed during a two-part spray foam application which causes a chemical reaction.
Two-part spray foam is a great solution for insulating surfaces that are not easy to reach or are not flat.
Here is an important spray foam insulation fact: The biggest advantage to using two-part spray foam during an insulation job is that the two-part spray foam air seals and insulates in one application and it can do so over a wide array of surface types.
Air Sealing
Here is the next critical fact: Air sealing can be successfully done at a much lower cost using one-part foam with special extensions for getting into small crevices around framing and drywall.
Air sealing should be done with every attic insulation project, but it does not and should not make the project less cost-effective.
An air barrier is very important so when the situation is right, using a more expensive material makes sense in the long run. But, when you have accessible areas to treat, it makes more sense to take the path of least resistance (on the wallet, that is).
R-Value
At the end of the day, you need to determine what is the recommended R-value for the surface area you are treating.
There are many ways to achieve your recommended R-value. But, if it costs double per square foot to use spray foam vs. traditional air sealing and insulation methods, then what is the point?
________________
Written by Eric Gans
I have over 1000 energy audits under my belt in Maryland. I like to take my personal experiences with each of my audit customers and try to get the things that concern them out into the world so others can make good home improvement decisions - in the right order - according to their needs.

I would like to hear your comments about this article. Feel free to post something below...