Like this article?
Get two free guides:
Replacement Window Report &
Home Efficiency Report
Join a community!

Learn how to move the
home comfort needle!


Save Energy
Effective Tips
From a Certified Pro
Energy Auditor
Eric Gans
Certified Energy Auditor

Residential Comfort & Energy Efficiency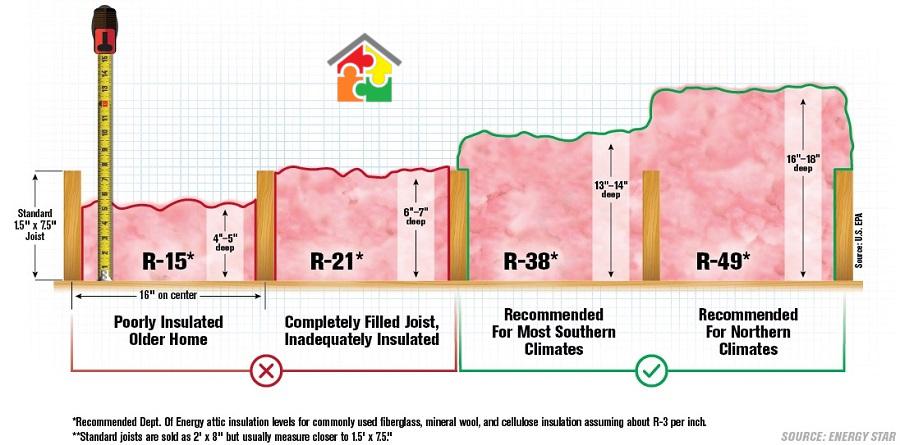 ________________
Written by Eric Gans, Building Analyst & Envelope Professional
I have completed over 1500 energy audits in Maryland which essentially means over 1500 trips to an attic.
________________


In Maryland, it is recommended that our attics are insulated to R-49
If you are having comfort issues in your home there is no doubt that a good place to start looking for answers is in the attic.
Maryland attic insulation projects can be better understood and considered with a little effort and knowledge.
It is not so much a matter of what insulation is best. More importantly, it is a matter of having the correct R-Value in the right places.
To get things going you must identify two main things:
1 What insulation material exists up there now to figure out the R-Value per inch of what you already have (use the guide below)
2 Determine the insulation level in inches and general condition to calculate the R-value (download the spreadsheet)
Once these two steps are complete, you can determine if you are meeting current Maryland insulation building codes.

Before Getting Started - A Few Basics

What is the R-Value? The Answer in "Lay" Terms
R-value is the conventional method by which the performance of insulation is measured.
Insulation has one job - to resist heat flow. The higher the R-value, the better the insulation resists the transfer of heat.
Attic insulation can have a huge impact on your overall comfort, energy bill and HVAC performance. A well-insulated attic can make an old heat pump or furnace seem like it is brand new if the project is managed and installed right!
Maryland attic insulation is very important because in summer, it is responsible for stopping the hot attic air from coming inside (it gets 150 degrees in attic!!) and in the winter it keeps the warm conditioned air from going outside (through the ceiling mostly, due to pressure).
The attic is the most important place to check first, however there are other areas that should also be considered such as the basement, overhangs and crawl spaces.

Insulation R-Value Chart: Recommendations
LOCATION....REQUIRED R-VALUE MARYLAND
Typical Places You will Find Insulation

Attic Flat..................................................................R49
Attic Slope..............................................................R38
Vertical Wall (basement, crawl space, knee wall)..........R13
Crawl Space Ceiling..............................................R25
Below Cantilever....................................................R25
Rim Joist (top of foundation wall in basement)...............R19

Step 1 - Determine what Type of Insulation You Have
Different attic insulation materials yield different R-values based on how many inches are in place. So, an important piece of information to determine your insulation R-value is to identify the type of insulation that was installed in your attic.
Fiberglass batts, loose fill fiberglass, loose fill cellulose, mineral wool and two-part spray foam are all insulation materials that you might find in a Maryland attic.
Need help with this?
Take a photo and send it to me! eric@hometrustremodeling.com
If you live in Maryland get a comprehensive home energy audit - preferably with me : ) - through BGE or Pepco.

Identifying the Most Common Maryland Insulation Types

Cellulose Loose Fill
General Characteristics
Grey in color

More dusty and clingy than other materials

Has bits of newspaper in it

Good fire/mold retarder w/ additives

Rolled Fiberglass Batt Insulation
General Characteristics
Typically referred to as batt insulation
Has the kraft paper or aluminum foil on one side
Recognizable due to the "Pink Panther" commercials
Must be installed flawlessly (unforgiving)
Low R-value per inch if not installed properly

Fiberglass Loose Fill
General Characteristics
Typically white shreds, pink squares or yellow shreds.

Much less dusty

Lower cold weather performance than cellulose

Different Insulation Types = Different R-Values
Once you determine your insulation type it is time to figure out the material's R-Value.
R-Value is sometimes misleading because several factors will have an impact on R-Value, including:
Installation integrity

No pressure boundary (air sealing)

Overall insulation coverage (evenly distributed)
R-Values can be multiplied by the number of inches to see where your attic falls on the scale.
It is important to note that the R-Value listed here is based on materials that are in use at the attic floor, not "brand new".
Loose Fill Cellulose


3.13 R-Value Per inch


(Example: 6" = R19; 10" = R31)
Fiberglass Batt Insulation


2.10 R-Value Per Inch




(Example: 6" = R13; 10" = R21)

Loose Fill Fiberglass


2.73 R-Value Per inch




(Example: 6" = R16; 10" = R27)



Schedule Your Energy Audit Now

Step Two: Calculate a Reasonable R-Value Based on Your Attic's Overall Condition
Insulation levels in a Maryland attic are typically inconsistent for various reasons. Getting a true perspective on how much insulation an attic needs will depend on what condition the existing insulation is in and what the levels are throughout the attic floor and other surfaces that need to be insulated.

Un-insulated Areas Play a Heavy Hand in Poor R-Values
Now lets go a little deeper and explore the impact an un-insulated surface has on the entire area when it comes to overall R-value.
If you go in your attic and see any area that does not have insulation then you should pay attention to the important information below.
The Impact Uninsulated Areas Can Have on Overall R-Value
To demonstrate the impact having no insulation has on the overall R-value, I am going to use a common set of circumstances in a typical Maryland attic.
For this example, the attic area in the home pictured above is 975 square feet and flat (R-49 recommended in Maryland).
At the attic floor you see 1" of blown in fiberglass insulation (white stuff in photo below) and 7" of rolled fiberglass batting laid on top.
R-Value for the insulation in this Maryland attic = R17 (using this guide)
Here is the catch...
There are two major un-insulated areas in this attic (very common in our area).
1. A three foot by three foot push up hatch
2. A three foot by three foot whole house fan
Equaling a total of 18 square feet of un-insulated area at the attic floor.
This equates to just about 2% of the overall attic area (18 divided by 975).

Typical hallway push up hatch leading to an under insulated
Maryland attic. Watch how a hatch gets treatment.
The hatch from the attic has a plywood cover (seen in background)
Whole house fan as seen from the attic.

When calculated using the Home Energy Score Averaging Calculator it is clear that un-insulated surfaces can have a negative impact on the overall performance of your insulation.
A 975 square foot attic with 18 square feet of missing insulation reduces the R-Value from 17 down to 13 - for the entire attic!
Calculating the actual area with insulation in combination with the areas that are not insulated yields a significant reduction in overall R-value as seen in the two scenarios above.
Conclusion: if as little as 2% of your attic surfaces are un-insulated it can have as much as a 25% negative impact on the overall R-Value of your current insulation.
REASON: According to Dr. Allison Bailes of Energy Vanguard, although the uninsulated attic areas are small in this case and only account for 2% of the overall attic area, the rate that heat flows through the bare areas by conduction is significantly higher than the insulated areas. If we assign an R-Value to the uninsulated areas equivalent to R-1 and the attic is insulated to R-17 everywhere else then the rate of heat loss/gain in those two small areas is 17 times higher which pulls the performance of the entire system down with it!
What does this mean in the easiest to understand terms?
If you are missing insulation in as little as one or two areas of your attic, your overall comfort and energy bill will suffer!
GET THE INSULATION R-VALUE CALCULATOR FILE HERE

Watch a uniformly blown cellulose attic insulation job in progress!
---



Next Steps



Don't Have Enough Insulation?
Not interested in poking around in your attic?

Get a home energy audit & get questions answered such as:
Should I use blown-in insulation or rolled insulation?
How much insulation do I need in my attic?
How do I properly vent my crawl space?
Should I remove old insulation from my attic?
What is the best way to seal my crawl space?
Is spray foam insulation the best solution for my home?
Why are my new windows feeling drafty?
Should I insulate the walls in my home?
What areas should I seal to reduce drafts?

Through BGE Here

Through Pepco Here

For only $100 through the Home Performance with ENERGY STAR Program - I am qualified to get all of the answers for you!