Residential Energy Efficiency Blog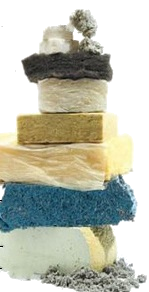 If you are having comfort issues in your home a good place to start when looking for answers is the attic. You must identify what insulation material exists and measure the insulation level in inches to see if you are meeting the latest building codes. Determining these two things will provide you with enough information to figure out the R-value of your insulation.
R-value is the conventional method by which the performance of insulation is measured. Insulation has one job - to resist heat flow. The higher the R-value, the better the insulation resists the transfer of heat.
Insulation is very important because in summer, insulation stops the hot attic air from coming inside (it gets 150 degrees in attic!!) and in the winter it keeps the warm conditioned air from going outside (through the ceiling mostly, due to pressure). The attic is the most important place to check first, however there are other areas that should also be considered such as the basement, overhangs and crawl spaces.

1st - Determine what Type of Insulation You Have
Different attic insulation materials yield different R-values based on how many inches are in place so one important piece of information to determine insulation R-value is to identify the type of insulation that was installed in your attic. Fiberglass batts, loose fill fiberglass, loose fill cellulose, mineral wool and foam are all insulation materials that you might find in your attic.
Pop your head up in the attic and take a photo of your insulation.
Feel free to email it to me so I can take a look and identify it for your eric@hometrustremodeling.com or refer to the photos below to try and figure it out.
Cellulose Loose Fill - Grey in color, more dusty and clingy than fiberglass loose fill, has bits of newspaper in it

Fiberglass Batts - Typically referred to as rolled insulation, has the kraft paper or aluminum foil on one side.

Fiberglass Loose Fill - You might see it in your attic in white, yellow, pink or grey. Much less dusty, but not as good as cellulose!

2nd - Determine a Reasonable Insulation Level in Inches
Insulation levels in an attic are rarely the same everywhere. In order to gain an true perspective on how much insulation an attic needs will depend on the cumulative amount in inches an attic has. So, as an example, if you have an attic that has 8" of insulation at the highest point and 2" at the lowest point and after surveying the attic floor, you can conclude that the level is approximately split 50/50 between the two heights then you can average things and call it 5". Of course, it is never quite that easy and it take a bit of a trained eye, but another alternative is to simply take measurements in five locations (corners and the middle) and get your number that way.
3rd - Convert the Number of Inches of Insulation into R-Value
Once you determine your type and level, it is time to figure out how to calculate for R-Value. I won't get into it too much here, but R-Value is sometimes misleading. This must be said for this reason: several factors including, installation integrity, the presence of untreated thermal bypasses (cracks/crevices where air can flow through below the insulation) and overall insulation coverage (evenly distributed) all play into the overall R-Value.
In Maryland, it is recommended that our attics are insulated to R-49
For each of the three types of insulation shown in this article (prevalent in Maryland attics), the following R-Values can be multiplied by the number of inches to see where your attic falls on the scale.
Loose Fill Cellulose - 3.13 R-Value Per inch (Example: 6 inches of loose fill cellulose = R19)
Fiberglass Batt Insulation - 2.10 R-Value Per Inch
Loose Fill Fiberglass - 2.73 R-Value Per inch
Most attics in Maryland are insufficiently insulated and are a big contributor to comfort problems, high energy bills and in some cases, poor indoor air quality.