I invite you to explore my YouTube channel, where you'll see first-hand how insulation looks in dark and mysterious attics, crawl spaces, and basements scattered across Maryland. Witness first-hand how we tackle the unique challenges found in these hidden spaces, and gain valuable knowledge on how to conquer your own house.
Like this article?
Get two free guides:
Replacement Window Report &
Home Efficiency Report
Join a community!

Learn how to move the
home comfort needle!


Save Energy
Effective Tips
From a Certified Pro
Energy Auditor
Eric Gans
Certified Energy Auditor

Residential Comfort & Energy Efficiency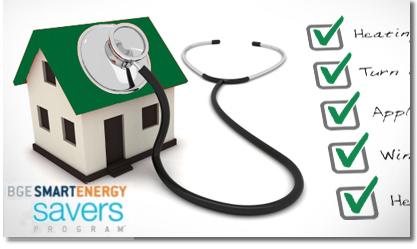 You have to put a some "skin in the game" if you are a BGE or Pepco customer and you want to take advantage of the 2023 Maryland attic insulation rebates. Annapolis lawmakers and planners along with Excelon forward thinkers joined up with ENERGY STAR® to bring an Energy Savings Program to Maryland that is amongst the best in the nation.
Step One: The Win-Win-Win
Get an easy to understand education behind the building science that drives energy efficiency in your home. With knowledge comes great power to quickly focus in on the things that will really help you feel more comfortable and save energy.
Learn - Enjoy Your Home - Reduce Costs

The Energy Audit

Home Performance with ENERGY STAR® (HPwES)
HPwES makes a lot of sense when you stop and think about how the BGE rebate program works. A Home Performance with ENERGY STAR energy audit is like getting a doctor's physical examination of your home so proper treatment can be prescribed.

Because the audit is performed by a trained professional, BGE insulation rebates and Pepco insulation rebates will be unlocked and available for Maryland energy customers to offset their project costs.
So, how do you start and what does it mean to put some skin in the game? Here is how the BGE 2023 rebate and Pepco 2023 rebate works.
Schedule Your Discounted Home Energy Audit
Did you know you are entitled to a discounted audit? You must schedule a home energy audit with a certified and accepted firm in the BGE and Pepco HPwES program.
You can schedule with Hometrust by clicking for BGE Insulation Rebates Here and Pepco Energy Rebates Here as we are approved to conduct comprehensive audits in both Maryland programs!
An audit will cost you $100. That's it! That's the skin in the game! The BGE energy rebate program pays the rest ($300).

An Energy Auditor Will Share Valuable Information with You

The initial home energy audit is a chance to work with your certified technician to understand a few key things about where to look for problems and why to look in those specific places. A BGE and Pepco home performance contractor uses diagnostic equipment to conduct a home energy assessment. Real time information can be shared at the time of the audit.
Rather than focusing on individual components, a home energy audit looks at how a combination of improvements - a whole house approach - can result in a more comfortable home and well as lowering energy usage and overall costs.
By doing so, the BGE insulation rebate and Pepco insulation rebate can be calculated based on the information gathered during the assessment.



Energy
Audit
Scheduler
Get it on your calendar now!
2023 BGE and Pepco Energy Rebates - Big Benefits for Maryland Residents!
A home energy audit can uncover significant opportunities for improvements around the home that can have a tangible impact on your energy bill, and they don't all have to be big projects that cost a lot of money. A trained energy auditor can help you find them making it almost sure that you will get your initial investment of $100 back.
Watch this 2-minute video to learn more about how the energy audit delivers the necessary information!

If, however, you are in the market for insulation, efficient windows, and doors, a new water heater, a new furnace, a central air conditioner, or a new heat pump, then the HPwES program is an absolute no-brainer.
Here is what the BGE insulation rebate and Pepco 2023 rebate program incentives cover in the way of high-efficiency products and solutions:
Air Sealing and insulation

Heating and cooling equipment


-Furnaces
-Central Air Conditioners
-Heat Pumps

ENERGY STAR® Windows and Doors

Hybrid heat pump water heaters

Duct Sealing and insulation

Smart Thermostats
You can read about the incentives and any additional requirements here for BGE energy rebates and here for Pepco energy rebates.
Don't Miss Out By Not Knowing How the Maryland Energy Rebates Work
One Baltimore homeowner did not know how the BGE energy rebates for 2023 worked and replaced her heat pump with a high-efficiency unit.
She was kicking herself after learning that her BGE heat pump rebate increased significantly through the Home Performance with ENERGY STAR program, but it was too late. At the time of purchase, the HVAC salesman made a strong case for her to replace her older unit with a high-efficiency machine with a "cookie cutter" $400 rebate. It seemed reasonable at the time.
About a year later, she decided to have the audit done, and it uncovered several essential things that should have been considered before the heat pump purchase. The biggest thing was finding out that the BGE heat pump rebate for the new system she purchased - the same one - was $2000 had she gone through the Home Performance BGE Rebate Program.
This part can be confusing but is instead a simple idea, and it helps to understand what the program is all about. The reason the BGE energy rebate for the same heat pump was five times as great was because of one simple fact that energy advisors know:
The only way that a new efficient heat pump will pay back is if the house for which it is producing conditioned air is properly air sealed and insulated. Otherwise, the savings over time that you gain from a high-efficiency replacement is pennies on the dollar.

Furthermore, consider this customer's initial reason for wanting an energy audit. The new heat pump had been installed for a year, and the house was not more comfortable.
The increased heat pump rebate, along with insulation rebates through the BGE and Pepco Home Performance with ENERGY STAR program, end up covering a good portion of the insulation project if done correctly.
By going out of order, the costs are exponentially higher. Without the insulation component, the desired results of purchasing a new HVAC system - better comfort and energy savings - never come to fruition.
One Customer Could Not Believe the Amount of her 2023 BGE Rebate
Her exact words: "Hi, I'm a little confused. So the work costs $4370, and I get $2000 back? So we only end up paying $2370? Or is that completely wrong? It does not seem right..."
Our response: "Yes, BGE is paying half because the modeling of your home suggests it will benefit greatly from air sealing and insulation, which will likely pay for itself over the life of the materials!"
Take the Next Step to Unlock Your BGE Insulation Rebate and Pepco 2023 Rebates!
Moral of the story: Put a little skin in the game! For $100 you will not only make sure you are getting the most you can out of the BGE and Pepco insulation rebates, but you can also take advantage of working with a specially trained consultant who will guide you and help you formulate the best possible road map to saving energy and creating a comfortable, sustainable home.
Schedule a comprehensive home energy audit through the Home Performance with ENERGY STAR® program today!
Schedule Your Energy Audit Now!
What has your experience been with the BGE and Pepco rebate program? We want to hear in the comments below.