Residential Energy Efficiency Blog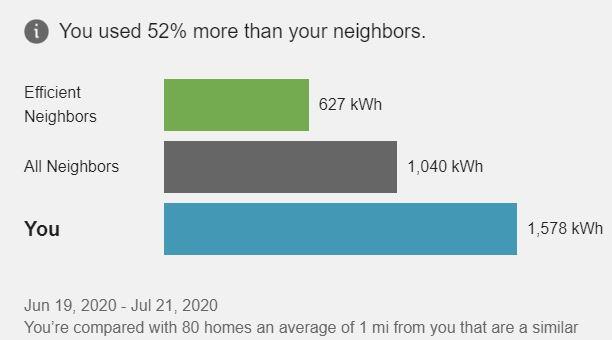 I have been to so many home energy audits where the customer's reason for having the audit done is because they keep getting the letter from BGE saying that they are using more energy than their neighbors. They don't understand why this keeps happening to them. They swear that they turn off lights, set the thermostat right and they have new windows and doors.
There are two things going on here that need to be addressed.
1. BGE Home Energy Report Program
We all get them. We all stopped looking at them. But, every once in a while it pops up in an email and you see the score. It's never good. You ask yourself - what else can I do? You are energy conscious. You are just living your best life.
Here is the thing about the Energy Report Program. That is exactly what it is - a program. There is an element of psychology. Nobody wants to get beat by their neighbor and they know that. And, it works. It moves the needle. People turn off more lights, upgrade appliances to ENERGY STAR and set thermostats up or down a notch or two. It saves energy so it works.
Everyone always wants to know if there is any validity to the report and the answer is yes. Although some information gets left out such as how many people live in the home and what are their daily habits (retired vs. work all day) the report is going to give you a small window into where you stand when it comes to energy usage compared to others.
2. The Value of a Comprehensive Home Energy Audit
To make a house energy efficient you've got to tighten your building's shell and usually the first thing that comes to mind is windows and doors. But, there are many other places that you might not realize are actually far worse than windows because of physics and pressure.
Uncontrolled air leakage occurs when air moves through gaps or openings in walls, floors, ceilings, duct work, doors or windows and is often a major source of energy loss in homes.
When I evaluate a home during an energy audit, the story becomes much clearer in terms of where we must look to be more efficient and it is not because lights are on too much. Additionally, windows and doors account for very little overall leakage when tested.
The green portion of the pie chart is the baseload. Baseload refers to everyday stuff like lights, computers, fridge, etc. If you think about how much energy these things all use, the biggest impact will be the refrigerator so if you are already using ENERGY STAR then there might not be too much more room to save. Efficient light bulbs will help too.
Next, look at the red and light purple. Those show the heating and cooling costs. This is where an energy audit and HVAC are joined (and really should be married at this point).
Consider most important thing to understand when it comes to making an impact on heating and cooling costs:
You can put the world's best HVAC system into a leaky house and get zero results
In other words, don't put the cart before the horse. Sealing up holes, gaps and cracks around the envelope of a home is a great way to really move the needle and will make any age HVAC system more efficient. Maybe you don't need to replace quite yet - an energy audit can guide you with unbiased information.
The secret to the success is knowing where to seal up your house. Just doing the obvious things won't cut it.
Get an energy audit and learn about the ways in which you can passively save energy and money and live in a more comfortable home. It makes a lot of sense and having an auditor walk you through to learn more about your house is empowering. It will set you on the best path to save energy in places you might not have thought about otherwise.
Let us know how you are doing on your BGE energy report.