Residential Energy Efficiency Blog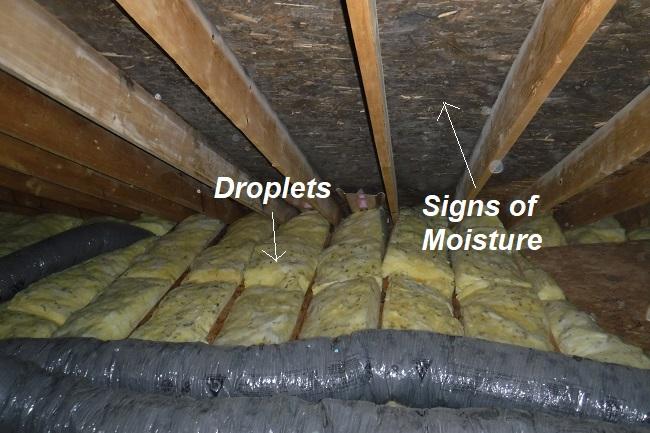 Today's BGE energy audit (8/15/20) in Randallstown, MD yielded some great information that I want to be sure to pass along to as many people as possible because this stuff really makes sense!
The issue and original call came from a problem in the attic. Mold stains on the sheathing (plywood). It was discovered during the process of trying to find the source of water leaks that were showing up on the drywall ceiling in a few spots around the house. The roof is 20 years old.
I have been in a lot of attics and seen a lot of plywood in attics (for which I am very proud!). I wasn't sure about what I was going to find. I have seen small patches of discoloration due to poor bath exhaust ventilation or a disconnected duct, but I have not had a mold case.
At first when I got up in the attic I could see the stains. It was apparent quickly that there was an issue.
I was a little puzzled at first. My mind flashed to the possible interaction of the conditioned air in the living space below and the warm humid attic air. A large opening or bypass? That seamed unlikely. Then I turned around.
The poor duct was lying completely undressed and quite dirty.
Here is the recipe for mildew and mold growth on the plywood in this attic.
1. 2nd HVAC system located in the attic. All ductwork servicing upstairs is in the attic. Ducts are leaky and improperly insulated allowing cold air to escape.
2. 2nd HVAC system improperly sized. Too large for the space/square footage it is supposed to service pushing cooler air through leaky ducts and into the attic.
3. Thermostat located in a bedroom that is likely subjected to higher temperatures due to the lack of performance of the sytem due to the leakiness/exposure to the hot attic.
4. Poor ventilation in the attic due to improper baffle placement and insulation covering the open areas. In other words, it looks right, but it is not.
A baffle is supposed to act as a channel for the open soffit below. Yet, look what the installation crew did...
The soffit opening is covered with "extra" layer. It is blocking any intake of air.
The Advice:
Control the humidity and the mold growth disappears.
How do you do that you ask?
1. Remove the insulation around the soffit/eave areas - full perimeter
2. Reposition the baffles properly to accept the now open air intake areas and in preparation for future added insulation (if applicable).
2a. Adding intake can also be a function of a siding project and is advisable if siding is on the list of things to get done.
3. Re-position the insulation to not cover the openings.
4. Seal the duct seams and tightly insulate the supply plenum (main AC duct) to eliminate leakage (lost energy) into the attic.