I invite you to explore my YouTube channel, where you'll see first-hand how insulation looks in dark and mysterious attics, crawl spaces, and basements scattered across Maryland. Witness first-hand how we tackle the unique challenges found in these hidden spaces, and gain valuable knowledge on how to conquer your own house.
Like this article?
Get two free guides:
Replacement Window Report &
Home Efficiency Report
Join a community!

Learn how to move the
home comfort needle!


Save Energy
Effective Tips
From a Certified Pro
Energy Auditor
Eric Gans
Certified Energy Auditor

Residential Comfort & Energy Efficiency
Thursday, October 29 2020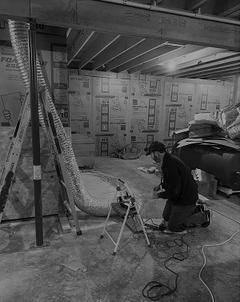 A duct blaster test is often confused for a test that blasts air through the ducts to clean them out and make them work better.
That is a misperception and we should also point out that getting ducts cleaned is not a worthwhile investment.
Actually, a duct blaster test is a duct leakage test.
Ducts, usually metal with seams and joints, carry precious conditioned air to the different locations in your house.
The entire duct system is a loop that is joined at the air handler, usually in the basement or an attic.
The loop is encapsulated, meaning there is very little outside particles or debris that can build up in your ducts, even if they run outside (attic, crawl space).
In a perfect world, the ducts would be completely sealed.
But, they are not. And, it is not the air that enters into the leaky places in ducts (rare) it is the air that escapes the ducts that we are most concerned about.
An HVAC system is designed on pressure so that the air can reach the furthest areas of your house.
That same pressure will force air out at the seams if they are not sealed properly which will cost you comfort and money.
A duct blaster test uses air (fan) and a sensitive pressure gauge to measure the overall leakage of a duct system. It measures leaks that are invisible to the naked eye.
It is critical to seal the ducts before it is too late and they are hard to reach.
Once the ducts are sealed properly and tested the HVAC system can truly be considered high efficiency.
________________
Written by Eric Gans
I have over 1000 energy audits under my belt in Maryland. I like to take my personal experiences with each of my audit customers and try to get the things that concern them out into the world so others can make good home improvement decisions - in the right order - according to their needs.

Have you had a duct blaster test done for IECC code compliance in Maryland? If so, we want to hear about it.