I invite you to explore my YouTube channel, where you'll see first-hand how insulation looks in dark and mysterious attics, crawl spaces, and basements scattered across Maryland. Witness first-hand how we tackle the unique challenges found in these hidden spaces, and gain valuable knowledge on how to conquer your own house.
Like this article?
Get two free guides:
Replacement Window Report &
Home Efficiency Report
Join a community!

Learn how to move the
home comfort needle!


Save Energy
Effective Tips
From a Certified Pro
Energy Auditor
Eric Gans
Certified Energy Auditor

Residential Comfort & Energy Efficiency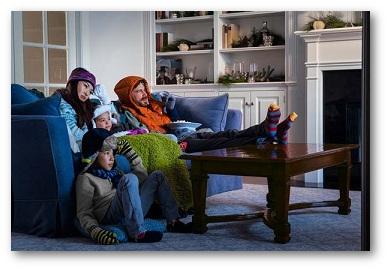 ________________
Written by Eric Gans
I have over 1000 energy audits under my belt in Maryland. I like to take my personal experiences with each of my audit customers and try to get the things that concern them out into the world so others can make good home improvement decisions - in the right order - according to their needs.
________________

If your house is cold there are likely several reasons for the problem.
The reason most think their home is cold: windows, doors and HVAC.
But, if you really want a more comfortable and energy efficient home then the places you really want to look are not where you might think.
Take it from an energy auditor with over 1000 energy audits and blower door tests completed - these are the things that will actually give you the very best return on investment.
More Focus on HVAC Ducts Rather than Replacement
Every homeoewner should familiarize themselves with their HVAC duct system. A disconnected duct can not only cause a room to be cold, but it can disrupt temperatures throughout your entire home.
Air Pressure
If you stop and think about it, so many things in our lives are working for us because of air pressure. For example, tires. Air pressure inflates the tire so that driving, riding, mowing etc. can happen with good performance and comfort. No air - no good!
Inside our homes, air pressure is used in a variety of ways. One example is plumbing. What happens when too many people try to take a shower at one time? The air pressure drops with so many open taps so the overall pressure of the water decreases as a result.
Air Pressure and Comfort
Air pressure is also used to heat and cool our homes. If you have air ducts, there is a whole lot happening inside the duct system each and every time the unit is running.
The ducts are the primary mode of transportation for the warm air to flow and service the rooms it was mathematically sized to do.
In an HVAC system that uses air ducts the blower pushes the air through at a specific velocity or flow. The size of the ducts relies on the force of the blower to get the air to where it needs to go.
So, similar to a train arriving to an place where the track has been removed and not being able to get any further - if there is a disruption to a portion of the duct system - the air will not get to where it needs to go.
Ducts in Attics and Crawl Spaces
Although it is entirely possible, it is highly unlikely that the rigid ducts that run through your walls and inside the "envelope" of your home are or ever will be disconnected. As an example, the ducts in the unfinished part of your basement (inside envelope) have likely been there since the beginning and they have not collapsed under their own weight!
The ducts that give the most problems are those that are in the attic or crawl space. The two main things that I see that contribute to the issue ar
e:
1. The use of flexible ducts that branch off of the main supply plenum are much less forgiving when moved, bumped or subjected to some of the harsh temperatures in an attic.
2. Poor workmanship likely due to the pure simple fact that working in an attic or crawl space is not pleasant and it is human nature to want to get the job done and get the heck out!
Disconnected Ducts or Poorly Sealed Ducts
When you happen to be walking around in a part of your home that has an attic above you - look up. If you have air vent supply registers in the ceiling then the chances are very high that you have HVAC ducts in an attic space.
The next questions you should be thinking if you do have vents in the ceiling is when is the last time you went to the attic and had the ducts inspected?

This attic inspection during a home energy audit in Maryland demonstrates the importance of having attic and crawl space ducts routinely inspected.
Why Does it Go Unnoticed?
The first idea that comes to most people's minds when a room in the house is not quite as comfortable as other areas or rooms is that the windows are bad.
In fact, it is not uncommon to do a home energy audit for a mechanical engineer that knows pretty much everything there is to know about an HVAC system, but they did not realize that the duct above their head might be the reason that they are having a comfort issue, rather than need to dense pack insulate a finished southern facing exterior wall.
The Impacts a Loose or Disconnected Duct Can Have
If a duct is disconnected it is not delivering the air to the location that it is supposed to. Obviously, that particular location suffers.
Due to static pressure, the entire duct system is effected when one duct is disconnected or if all ducts are very loose! When the pressure inside your duct system is radically changed, with a disconnected duct as one example, it can cause temperature variances in other parts of the house.
What Can You Do?
The best thing to do is take advantage of any home assessment program in your state that includes the technician going into your attic or crawl space as part of the inspection process.
For example, in Maryland a BGE or Pepco customer (power utilities) can get a comprehensive home energy audit for $100 which includes a detailed inspection of the entire thermal envelope of the home. As part of the energy audit, HVAC ducts are assessed and testing can also be done, if necessary, to determine how leaky the ducts are when the system is running.
If You are Cold Always Think Attic and Basement First
One lesser known place compared to windows and doors to get air leakage sealing done and earn big savings is at the attic floor and in the basement. Because heat rises and other pressure dynamics inside of your home, most of a the warm air leaves through the ceiling and into the attic (outside). And, most of the cold air infiltration occurs in the basement or at the foundation level.
Basement Rim Joist Air Sealing
Simple sealing and insulation can go a long way in the right places in a basement. Often times the first instinct is to insulate the walls of the basement. But, the rim joist is much leakier and will yield much bigger gains when treated - for much less cost.

If you are not familiar with the rim joist in your basement, take a look at the walkthrough video below.
If you have an unfinished area of your basement look at the top of the foundation wall for the rim joist area. Here is a tip: if you see spider webs dangling around then chances are you have air leakage in the general vicinity.
How Does My Basement Leak Cold Air?
A good way to understand why a basement or lower point in a home is more likely to leak cold air is to think about the Empire State Building. Whether you have been there or not, you might recognize that any larger building has some type of a revolving door at the entrance. In many cases, buildings have a double door solution where you open a door walk five steps and then open another door.
The reason for these solutions is because of pressure due to the stack effect or chimney effect. On certain days, the door might not be able to be opened or could blow off due to pressure dynamics inside and outside of the building.
Stack Effect
The stack effect can be simply understood by thinking about a wood burning fireplace. When the fire is going, the smoke and heat rises up and out at the top. That is a positive pressure dynamic. At the base of the fire, the fire is "sucking" up oxygen - the negative pressure.
In a building, the dynamics are similar. The warm air rises and escapes through cracks and crevices creating a positive pressure dynamic - similar to the stack effect. Downstairs, in the basement, where there are cracks and crevices, particularly at the rim joist, cold air is drawn or "sucked" in.
For this reason we will recommend to air seal the attic floor and the basement rim joist every day all day over windows and doors. If you follow the science and try this out in your own house on a clear, dry mid range temperature day. Open the upstairs windows and watch the curtains get sucked against the screen wanting to flow out and open a first floor or basement window and watch curtains flap towards the inside from the air being drawn in.
Conclusion
If your home is perpetually cold then take note of where your HVAC ducts traverse through your "building's shell" and where perhaps there could be room for issue or improvement. Delivery of the air is equally important to the creation of the air. And, everyone must pay close attention to the details of their attic floor. Creating a continuous air-barrier (not to allow any air to pass through) is critical to a comfortable and energy efficient home.


I would like to hear your comments about this article. Feel free to post something below...