I invite you to explore my YouTube channel, where you'll see first-hand how insulation looks in dark and mysterious attics, crawl spaces, and basements scattered across Maryland. Witness first-hand how we tackle the unique challenges found in these hidden spaces, and gain valuable knowledge on how to conquer your own house.
Like this article?
Get two free guides:
Replacement Window Report &
Home Efficiency Report
Join a community!

Learn how to move the
home comfort needle!


Save Energy
Effective Tips
From a Certified Pro
Energy Auditor
Eric Gans
Certified Energy Auditor

Residential Comfort & Energy Efficiency
Thursday, December 31 2020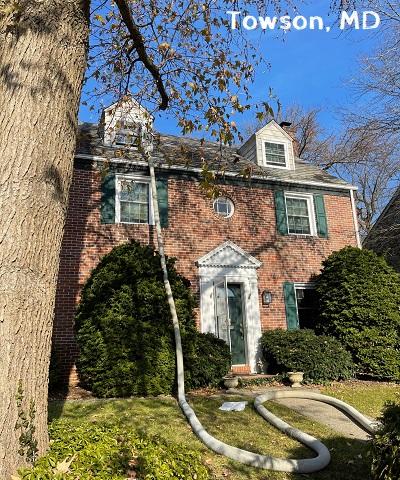 Towson - Maryland
If you have a Cape Cod style home and you are wondering if you can air seal and insulate effectively - the answer is yes, however not without a good plan.
Houses with Cape Cod style framing stem from being built in the 1940s and 1950s when the cost of heating was dirt cheap and insulation was an afterthought.
Watch a few Cape Cod insulation techniques on YouTube
If you live in this style home, chances are very good that it has not been properly addressed due to the complexities of the way it was built.
Below, you can take a peek at a recent Cape Cod insulation project and what steps were taken to seal and insulate. This one is located in the friendly residential Southland Hills community of about 200 homes in the heart of Towson, Maryland. The homes in the neighborhood were built in the 1940s.
The Comprehensive Energy Audit
Having a home energy audit done when you live in a Cape Cod-style home might be a good idea if you are looking for guidance on how to properly go about creating better comfort and lower energy bills.
The good thing about working with an energy auditor who has experience is that you can gain insights and avoid pitfalls from a person who has seen these areas before and knows what to expect.
Partnering with a pro can help set you on the right path toward measurable results.


Bonus Room House!
When I pull up to a home as an energy auditor I have my radar on: What style home is it? What is the footprint of the home? What condition is the home in? Is the heating and cooling gas or electric? These are some of the take-off points to begin a great home energy audit.
One thing at this house stood out to me when I arrived.
A window at the top of a wall within the side gable usually means the house has a "bonus room". Another, more well-known way to describe the style of home is the Cape Cod style.
If you have a Cape Cod-style house then you know it really means the bonus room is really just an extra dose of difficulty.
The small attic behind the wall at the bottom of the sloped ceiling is usually hard to reach and a source of discomfort and dust due to old/worn insulation, poorly sealed hatches, and general basic neglect (nobody's judging ya!).


Panel that leads to attic space behind bonus room wall. The attic area is behind the bonus room wall.
I find these attics in older homes throughout Baltimore County and Maryland for that matter and if you take a drive through this Southland Hills neighborhood, it is easy to see that many of the 200 homes built in the development are all of similar Cape Cod style.

How to Make Insulation Decisions in a Cape Cod
The complexities that arise when thinking about how to properly insulate a Cape Cod-style home start to go away the more you see this type of construction style. The problem for most homeowners is that they are not traveling from home to home to manage insulation jobs, taking the time to figure all of this out.
Furthermore, if you are not careful while expending brain power on thinking through how to insulate the roof walls or floor, other important things can easily get missed.
For example, HVAC ducts are typically living in Cape Cod-style knee wall attics. It makes perfect sense. It is an easy conduit to run ductwork to the different areas of the home adjacent to the attic as well as below.
But, this can also bring a whole new set of issues if the ducts are not maintained or if they are old and have been subjected to other changes the house has undergone through the years.
Take a look at this discovery during a Cape Cod spray foam insulation project.
Finding a Good Air Sealing & Insulation Treatment Approach
The best approach to take in a house that is a Cape Cod configuration is to see what the house has to offer as a starting point. What I mean by that is to figure out what areas of the space can be easily accessed.
Collar Attic Plan
Treatment to the top flat portion of the attic (called the collar attic) should be evaluated for treatment including sealing and adding insulation. If space permits air sealing and insulation should be installed.
Look at these similarly constructed homes with varying amounts of space above the top flat ceiling. The lines indicate the approximate ceiling location.
Example Home with only 20" of space Home Where Audit was Conducted has 36" of space to work


In the two different configurations, literally the difference between 16" makes the difference between being able to work in the space or not.
The good news for this home in the Southland Hills neighborhood is that it had sufficient space for a human to work.
Check out some of the details...
The ceiling measures 7' across. A hatch that was cut for HVAC in the collar attic.

A pop up inside the space reveals not much room to move, but a good opportunity
to make improvements, nonetheless.
At the end of the day air sealing and adding insulation to the collar attic was feasible and recommended to the homeowner. Each Cape Cod collar attic should be independently evaluated for feasibility.
Sloped Attic Approach
Sloped ceiling portions of a Cape Cod attic should be evaluated both visually and with thermal imaging. One possible deterrent for homeowners to treat a Cape Cod attic is that finished sloped ceilings can be costly to re-insulate.
But don't overthink or try to overdo the job. With a few subtle installation techniques, the R-value in the sloped cavity can be increased in some cases, and treating areas that are more practical to reach will only improve the overall leakage of the ceiling bays.
The solution for this home was to seal the cavity bays from below and from above and leave the existing insulation to keep the project within budget.
Knee Wall Areas
Another challenge to getting measurable results when air sealing a Cape Cod-style home is getting to all of the small spaces between the roof and the knee wall.
In many cases, access will need to be made in several locations, so knowing this and prioritizing improvements is critically important.
As an example, don't re-paint the upstairs bonus room if you are considering insulation or if you are finding this article because you are not comfortable in the space and want to find solutions.
Energy auditing, home performance, and the BPI guidelines all work towards finding areas around preexisting homes to treat where the return on investment is positive over time.
In some instances, costs will outweigh value, but when it comes to treating these inaccessible spaces that have older insulation - the gains in energy savings and comfort can really pay off if a little finishing work is required after the project is done adds a little to the overall cost.
Every situation should be evaluated on a case-by-case basis and a home energy audit is precisely a way to figure all of this out.
Notice how the front dormer windows create multiple areas that need to be treated, making it a bit more difficult.
Check out how we create access to an attic area that is not currently accessible.
Final Plan: Sealing and Insulating in the Best Locations for this House
The stack effect drives the air change conveyor belt inside your home quite a bit in the heating season. This is due to leakage in the basement and in the attic.
During an energy audit, I am literally "on the hunt" for places where air can infiltrate (come into your conditioned space) and exfiltrate (your conditioned air goes out). Sealing up these two places in cost-effective ways is the name of the game!
So, after careful review and consultation between myself and the homeowner, we decided on the following work scope:
~WORK SCOPE~
Foundation -- Air Sealing / Insulation
Air seal any penetrations at the accessible rim joist in the basement with two-part spray foam (~60 linear ft) which will also insulate the area to R-19.
Attic -- Air Sealing / Insulation
Cut access in three wall locations to gain access to the upper floor attic. Reinstall the drywall with a removable panel for future access if needed.
Treat three existing attic access areas by adding insulation to each and weatherstripping. (2 walls, 1 ceiling)
Add 5-7" of open cell spray foam to the accessible sloped roof surfaces of the knee wall attic areas (~392 sq ft).
Blow 10" of loose fill cellulose to the flat collar attic using the existing ceiling hatch in the closet (~154 sq ft).


Basement Rim & Band Joist - Every Home Should Get this Treatment by the Way
If you are not sure what the rim and band joist are in your basement and if it is accessible for treatment - you are about to find out!
First, put yourself in the unfinished part of your basement. Usually, it is a utility room with an HVAC, a water heater, and maybe a washer/dryer.
Identify your foundation wall at the top and you have found your rim and band joist.
Take a look at how the electrical "main" is coming through the rim joist in the basement of this Towson, Maryland home performance home. This is happening in a lot of homes.
Look at the size of that hole. And this is the point - it is a hole going directly to the outside which means this:
Summer: humidity infiltration
Winter: cold air infiltration
Just look at those spiderwebs. The spiders like to make their traps where the air is moving. It is instinctual. So if you see a spider web, air is flowing.

Now get your full frame of reference by watching this short video clip that shows where the electrical main and gas line enters into the rim joist from the outside which appears "invisible", but it is not.
Results - A Look at the Final Project and the Test-Out Numbers
Rim and Band Joist Treatment - Closed Cell Spray Foam

Watch the spray foam team treat a portion of the rim and band joist in this up close and personal clip.
Knee Wall Attic Treatment Before / After
Example of Knee Wall Encapsulation
Blower Door Results
Many factors drive the overall reduction in leakage that each home is scheduled to achieve during a home performance project through the BGE program. I make this very clear to my customers that for every house I believe we can get a 30% reduction and if there is a home that I am convinced we can only achieve the minimum required to meet the program standards (10%) - only to exceed that by a lot.
As a result of many audits and challenging situations when I was wrong, the partnership I formed with this customer went a long way. We both agreed that a 20% reduction was a good target and that due to other factors that were not reported here, we will do everything we can to nail the work scope and see where it takes us.
Ultimately, this home performance project achieved an 11% reduction in leakage.
Initial Blower Door Test In CFM: 3775 Cubic Feet Per Minute at Negative Pressure -50 Pascals
Final Test Out Number: 3255 Cubic Feet Per Minute at negative pressure -50 Pascals
Need Advice on How to Do Something Like This?
If you are interested in making your home more comfortable and more efficient, give me a call. We can discuss your situation and likely getting a BGE or Pepco Energy Audit is the way to go.
Incentives through the program can be quite advantageous, particularly for those who know that they have to get this problem resolved once and for all.
Furthermore, an energy audit can uncover other factors that can contribute to your specific issue as each home is different - even the same model across the street.
Give me a call! I'd love to help you out!
Written by Eric Gans
I have over 1000 energy audits under my belt in Maryland. I like to take my personal experiences with each of my audit customers and try to get the things that concern them out into the world so others can make good home improvement decisions - in the right order - according to their needs.