Like this article?
Get two free guides:
Replacement Window Report &
Home Efficiency Report
Join a community!

Learn how to move the
home comfort needle!


Save Energy
Effective Tips
From a Certified Pro
Energy Auditor
Eric Gans
Certified Energy Auditor

Residential Comfort & Energy Efficiency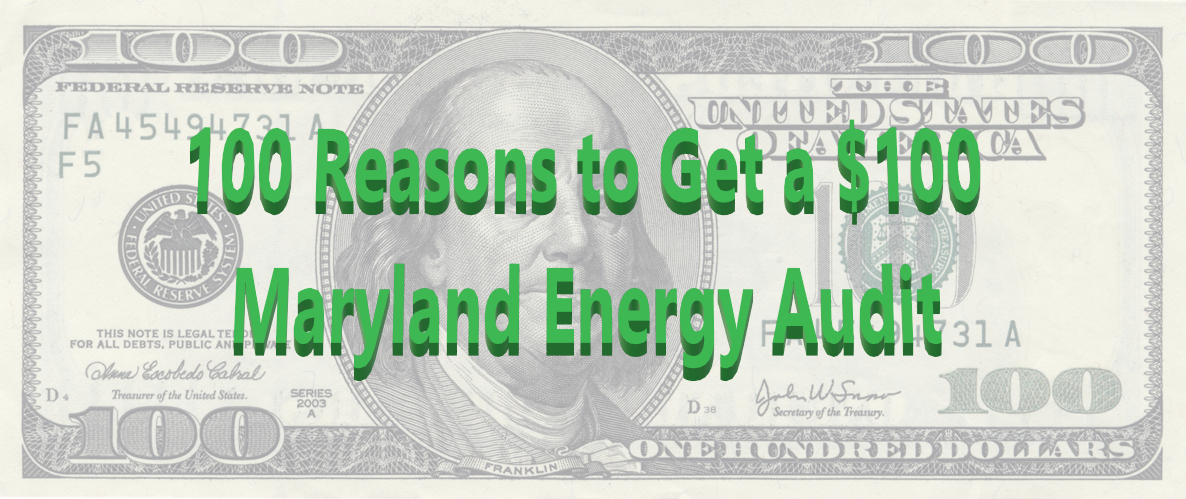 Written by Eric Gans
I have over 1500 energy audits under my belt in Maryland. I like to take my personal experiences with each of my audit customers and try to get the things that concern them out into the world so others can make good home improvement decisions - in the right order - according to their needs.
It does not surprise me that with some thought, I was able to come up with 100 reasons why you should get a Maryland home energy audit through BGE or Pepco.
Each reason is worth $1. Seems like a very good value when you look at it like this...
There are probably hundreds more that are not listed. I have broken it down into ten categories.
Health & Safety
A home energy audit tests several key health and safety elements around a home that need to be monitored from time to time just to be sure everything is working right.
Foundation Inspection

Combustion Analytics

Spillage Testing

Natural/Propane Gas Leakage Testing

Mold/Mildew Inspection

CO Monitoring/Detection

Combustion Zone Safety Inspection

Smoke Detector Assessment

Flue/Chimney Inspection

General Electrical - Visual
More Comfortable Home
Most people think they have to live with a hot upstairs in summer or drafts in the winter, but maybe you don't.
Attic Ventilation Evaluation

Indoor Air Quality

Humidity Mitigation

Draft Mitigation

Window/Door Assessment

Overall Insulation Assessment

Overall Air Barrier Assessment

HVAC General Evaluation

Exhaust Fan Evaluation

Temperature Variance Control Methods
Save Money
Using less energy = $ savings and you get more comfort in return. There is a win/win for ya!
Understand Where You Lose Energy

Find New and Unknown Leakage Points

Focus Efforts on Correct Things

Get a Report Detailing Usage

Hot Water Temperature Reading

Immediate Energy Saving Installs @ Audit

Thermostat Recommendations

Thermal Imaging to Pinpoint Issues

General Advice on What Actually Works

Avoid Spending on Wrong Solutions
Create a Home Improvement Priority List
There is no worse sinking feeling then when someone tells you that you should have done that first and you know you gotta do what you already did again.
Identify Areas in Need of Attention

Begin to See Your Home in Three Dimensions

Learn About the Highest Impact Project for You

Whole House Approach

Easy Do it Yourself Project Tips

Avoid Doing Projects Out of Order

Avoid Common Home Improvement Pitfalls

Unbiased Recommendations

Material Condition Summary

Unbiased Roof Evaluation
Home Improvement Education
An old cliche: Knowledge is Power
Building Science Principles

Proven Examples of Success

Testing with an Element of Your Participation

How Physic Plays a Role

Learn the Basics About What is Most Impactful

Take the Knowledge with You

Ask Questions About Your Home

Reorganize Priorities

Learn from Other Homeowners

Comprehensive Reporting Package
Contribution to Sustainable Future
A typical HVAC machine in our area runs for about 20 years. With less usage the life span easily goes up to 30.
Slow Climate Change

Do Your Part!

Structural Sustainability

Better Indoor Air Quality – Better Health

Less HVAC Usage = Longer Machine Life

Teach Others what You Learn

Longer lasting HVAC equipment

Money Savings

Use Less Energy

Better Resale Value
A Different Home Improvement Experience
Working within the BGE/Pepco program gives the homeowner and the energy contractor a clear way to interact that leads to successful results.
Not a Sales Call

No Pressure

Unbiased Information

Work with a Contractor who is on Your Side

Third Party Verification

Quality Control Levers

Confidence in Certifications

A Comprehensive Service

No Sales Gimmicks

Measured Projects Mean Managed Projects
Unlock Rebates
Take advantage of rebates that are driven by how much energy you can save.
Higher Incentives for Doing it Right!

Get Higher Return on Investment Ratios

Get Guidance on AC Efficiency Ratings

Learn which Furnace Rating is Right for You

Get Guidance on the Best Water Heaters to Buy

Learn About Rebates for Energy Efficient Windows

Determine if thermostat rebates will make sense

Special Increased Incentive periods

Determine the Simple Payback (Years)

Learn About Door Replacement Incentives
Feel Empowered
Make confident decisions when it comes to other projects around the home knowing which will and which won't actually save you energy.
Make Home Project Decisions from a Place of Knowledge

Use the Knowledge Gained to Solve Issues Around Your Home

Know the Projects Around Your Home that Are and Are not Feasible

Value from auditor insights (we see stuff every day)

Less Likely to be Taken Advantage of by Contractors

Know Exactly where Your Home's Performance Stands – Snapshot!

Blower Door Test Uncovers Real Leakage Areas for Treatment

Rule Theories In or Out

Understand the Science Behind the Solutions

Know what Issues Exist so you can do a Little at a Time
Attic and Crawl Inspection
There are not too many people that like to go into an attic or crawl space and it is an energy auditors job to do so.
Professional Assessment

Discover Deficiencies

Moisture Evaluation in "dark places"

Pest Evaluation

Ventilation Evaluation

Roof Sheathing Inspection

Structural Inspection

Electrical Inspection

Insulation Inspection

Duct inspection