I invite you to explore my YouTube channel, where you'll see first-hand how insulation looks in dark and mysterious attics, crawl spaces, and basements scattered across Maryland. Witness first-hand how we tackle the unique challenges found in these hidden spaces, and gain valuable knowledge on how to conquer your own house.
Like this article?
Get two free guides:
Replacement Window Report &
Home Efficiency Report
Join a community!

Learn how to move the
home comfort needle!


Save Energy
Effective Tips
From a Certified Pro
Energy Auditor
Eric Gans
Certified Energy Auditor

Residential Comfort & Energy Efficiency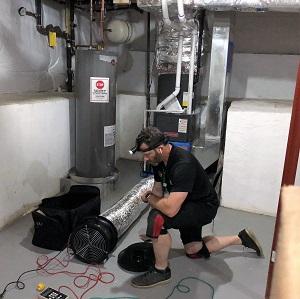 Sealing the crevices that matter most!
In existing homes, it is not out of the ordinary to find components of the heating and cooling duct configuration to be disconnected, loosely connected or connected and leaky due to old methods of installation. If the problems are in ducts that are located in the attic or in a crawl space the loss is greatest and should be high priorities.
Duct leakage points located inside the conditioned area of a home are less costly than those that are outside, but there are examples where leakage inside the envelope can cause pressure dynamics in the home that actually can force conditioned air out or pull it in, so it should not be overlooked.

An energy auditor can find disconnected ducts that are quite costly

Cracks in the ducts that are under the greatest pressure leak the most and therefore are higher priorities. An example of this would be the ducts closest to the air handler. In this area of the system, the pressure is greatest. The good news for many homeowners is that many opportunities exist to seal near the air handler.
It is always best to target all ducts in an HVAC duct system, but it is worth noting that supply ducts are more important to seal than return ducts.
Consider getting a duct diagnostic test performed to determine how leaky your ducts are overall and isolate those that are outside to see how much they are leaking compared to the system as a whole.