I invite you to explore my YouTube channel, where you'll see first-hand how insulation looks in dark and mysterious attics, crawl spaces, and basements scattered across Maryland. Witness first-hand how we tackle the unique challenges found in these hidden spaces, and gain valuable knowledge on how to conquer your own house.
Like this article?
Get two free guides:
Replacement Window Report &
Home Efficiency Report
Join a community!

Learn how to move the
home comfort needle!


Save Energy
Effective Tips
From a Certified Pro
Energy Auditor
Eric Gans
Certified Energy Auditor

Residential Comfort & Energy Efficiency

Understanding the R-Value

It is important to measure insulation through a slightly different lens. Rather than focusing on which insulation is better, it is more important to achieve the recommended R-value for specific areas of your home's shell.
There are two important things to familiarize yourself with as it relates to R-value.

1. The R-Value in "Lay" Terms
We measure insulation by its R-value.
Insulation has one job - to resist heat flow. The higher the R-value, the better the insulation resists the transfer of heat.
Attic insulation can have a huge impact on your comfort, energy bill, and HVAC performance. A well-insulated attic can make an old heating and cooling system seem like new.
Attic insulation in Maryland homes is key to comfort each season.
Summer: Attic insulation keeps the hot attic air from getting inside.
Winter: Attic insulation prevents the warm inside air from escaping.
The attic is the most important place to insulate first. Other areas should also be treated such as basements, overhangs, and crawl spaces.
2. Maryland Insulation R-Value Chart
You can use this later to compare to what you currently have.
BOUNDARY LOCATION
REQUIRED R-VALUE MARYLAND
Attic Flat
Ending R-value of 49 or as space allows
Attic Slope
Ending R-value of 38 or as space allows
Vertical Wall
(basement, crawl space, knee wall)
Ending R-value of 11 or greater
Crawl Space Ceiling
Ending R-value of 25 or as space allows
Below Cantilever
Ending R-value of 25 or as space allows
Rim Joist
(top of foundation wall in basement)
Ending R-value of 19 or greater

Determine what Type of Insulation You Have
Different attic insulation materials and levels yield wide-ranging R-values.
So, it is first important to determine the type of insulation that is in your attic.
Typical Insulation Materials Found in Maryland Attics
Fiberglass batts

Loose-fill fiberglass

Loose-fill cellulose

Mineral wool

Two-part spray foam

Identifying the Most Common Maryland Insulation Types

Cellulose Loose Fill
General Characteristics
Grey in color

More dusty and clingy than other materials

Has bits of newspaper in it

Good fire/mold retarder w/ additives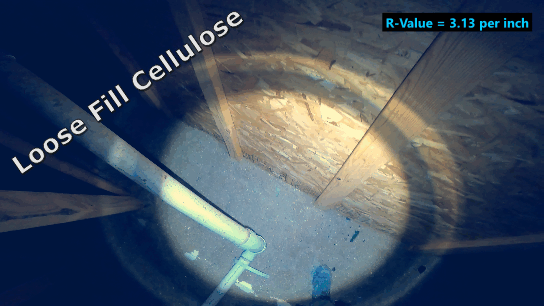 Rolled Fiberglass Batt Insulation
General Characteristics
Typically referred to as batt insulation

Has the kraft paper or aluminum foil on one side

Recognizable due to the "Pink Panther" commercials

Must be installed flawlessly (unforgiving)

Low R-value per inch if not installed properly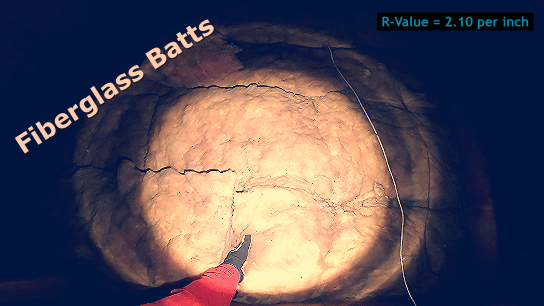 Fiberglass Loose Fill
General Characteristics
Typically white shreds, pink squares or yellow shreds

Much less dusty

Lower cold weather performance than cellulose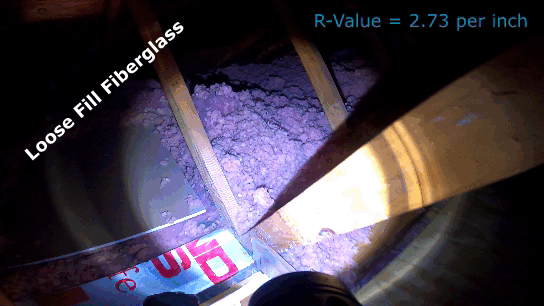 Determine Your Attic Insulation's Condition
The condition of the existing insulation in an attic is also important. Obtaining the information will assist in generating a reliable return on investment reporting. Current conditions can also reveal clues about future comfort gains.
R-value can be misleading if several factors are not met:
Your insulation should get a rating of "poor", "moderate" or "well" insulated.

Attic Insulation in Poor Condition
Insulation with large gaps and voids. Missing insulation greater than 2% of the insulated area.
Attic Insulation in Moderate Condition
Insulation with defects and gaps around wiring, electrical outlets, plumbing, and other intrusions. Rounded edges or "shouldered". The amount of fill is incomplete, but rarely dips less than 30% of the intended thickness. Gaps and spaces running clear through the insulation should be no more than 2% of the insulated area.
Well Insulated Attic Characteristics
The insulation has no large gaps or voids around obstructions. The insulation appears to fit in any cavity side-to-side and top-to-bottom. The insulation appears to be around wiring and other services in the area.

Different Insulation Types & Conditions = Different R-Values
The values for the corresponding condition of your attic insulation can be multiplied by the number of inches you have to see where your attic falls on the scale.
Loose Fill Cellulose
New: 3.60 R-value per inch
Existing Well: 3.60
Existing Moderate: 3.13 R-value per inch
(Example: 6" = R19; 10" = R31)
Existing Poor: 2.7 R-value per inch

Fiberglass Batt Insulation
New: 3.14 R-value per inch
Existing Well: 2.67
Existing Moderate: 2.10 R-value per inch
(Example: 6" = R13; 10" = R21)
Existing Poor: 1.26 R-value per Inch

Loose Fill Fiberglass
New: 3.14 R-value per inch
Existing Well: 3.14
Existing Moderate: 2.73 R-value Per inch
(Example: 6" = R16; 10" = R27)
Existing Poor: 2.36
How Much Does Insulation Cost in Maryland?
Watch a uniformly blown cellulose attic insulation job in progress!
Maryland Insulation Rebates

How the Insulation Program Works
Maryland Utilities (BGE & Pepco) offer a portfolio of programs promoting energy efficiency and conservation, including rebates, education, and services. The program is designed around a consultative approach.
Air sealing and insulation are considered the most important measures to complete to achieve energy efficiency - before windows, doors, and replacing older HVAC.
The initial qualifier for rebates is to get a home energy audit.
LEARN MORE
Maryland Residents Learn More About the Inflation Reduction Act Here

Don't hesitate. Schedule online. Only $100 in the end.

Get a home energy audit & get questions answered such as:
Why is the room on the front of the house colder?
Do you have enough insulation?
Why is it so stuffy upstairs during the summer?
Should I remove old insulation from my attic?
Why does my HVAC run all of the time?
Is spray foam insulation the best solution for my home?
Why are my new windows feeling drafty?
Do my walls have insulation?


Wanna know more about the home energy audit process?



Energy Audit Guides

-2023 BGE Energy Audit-

-2023 Pepco Energy Audit-
Do you need an energy audit?
Check your house for any of these 5 signs...

A home energy audit is the GPS of home improvements...
Turn-by-turn directions to better comfort & energy efficiency.
Schedule yours today!